Epson SurePress L-4033A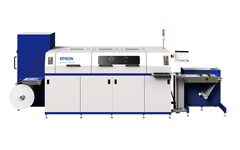 Industrial Products
More Than A Digital Press -
A Whole New Approach to Greater Profitability
MORE THAN A DIGITAL PRESS - A WHOLE NEW APPROACH TO GRATER PROFITABILITY
It's never been easier to go digital — introducing Epson's new SurePress L-4033A, a breakthrough, short-run digital label press offered with pre-and post-press options that can be tailored to meet various needs and budgets.
Visit SurePress Microsite for more information
The Epson digital label press capitalizes on Epson's acclaimed MicroPiezo® ink jet technology to create output with smooth gradations and incredible colour quality. Its six-colour (Cyan, Magenta, Yellow, Black, Orange and Green), industrial-quality, water-based ink set produces a remarkable range of colours for impressive, professional and consistent results. Driving this best-in-class ink jet technology are the included RIP and colour management tools from Wasatch and X-Rite. The Wasatch SoftRIP provides intuitive workflow controls and the i1Pro bundle allows for the creation of custom ICC profiles per selected substrates, ensuring consistent and repeatable printing results.
The Epson SurePress also delivers on substrate versatility. With no pre-treatment or top coating required, a variety of standard off-the-shelf substrates can be used at variable web widths up to 13 inches wide. By working with industry-leading manufacturers on every aspect of digital label production, from colour management to media and finishing options, Epson offers a new, open approach that will make the adoption of digital short-run label printing easier and more profitable.
Visit SurePress Microsite for more information