Epson SurePress L-4033A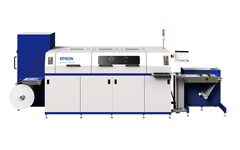 Industrial Products
More Than A Digital Press -
A Whole New Approach to Greater Profitability
The Epson SurePress™ range represents a breakthrough in label production. It has never been easier to go digital and you can do it with machines that are compact, have wide media compatibility and high production flexibility. Equipment is easy to install, easy to maintain, and cost effective to run. Jobs can be set-up and completed quickly with minimum wastage and labour. They produce output with outstanding print quality that is suitable for a wide range of consumer and industrial applications.
The SurePress L-4033A digital label press incorporates Epson's acclaimed MicroPiezo® ink-jet printhead and uses industrial grade Epson SurePress AQ ink. It is designed for converters who wish to produce general purpose and specialised labels in short and ultra-short print runs on mainly paper based stocks. It produces output on coated and uncoated substrates with a high colour gamut, high colour accuracy, and outstanding print resolution and precision. Jobs are quick to set up and easy to complete with the absolute minimum in consumption, wastage and labour. Machines are compact, easy to install, cost effective to run, and can be managed by a single operator. Output is compatible with a wide range of industry standard finishing equipment for a low set-up cost with maximum production flexibility. They can be operated with a choice of RIP software and ordered with an optional X-Rite spectrophotometer for work with custom media.
FEATURES AT A GLANCE
Exceptional Print Quality

– Epson MicroPiezo print head array with 2880 x 1440dpi max resolution1 and VSDT.

Outstanding Colour with a Quality Finish

– 6 colour pigment aqueous ink set with an enhanced gamut, selectable Black ink for coated and uncoated stocks, selectable Over-Print, optional integrated colour management.

Fast Job Turnaround

– Fast media loading, rapid configuration, digital image processing, supports production speeds up to 5m/ minute1 with dual drying systems.

High Production Flexibility

– Variable frame lengths, variable print lengths (including support for ultra-short), fully adjustable label sizing, compatible with industry standard substrates from 80-330.2mm wide; optional re-winder, X-Rite spectrophotometer, and variable label content support.

Easy Operation

– Dual high capacity cartridge loading with on-the-fly exchange, digital touch-screen display with user-adjustable pre-sets, supplied with a choice of RIP software.

Low Running Costs

– Low power consumption, cost-effective aqueous ink, minimum substrate waste, single operator management with minimum job oversight, automated head maintenance, minimum cleaning/ mechanical maintenance and system downtime.

Easy Installation

– compact design, supplied and installed by Epson in conjunction with authorised dealer/integrators2.

Simplified Handling with Reduced Environmental Impact

– Requires no film or plates, uses low toxicity water based ink that dries to be moisture & abrasion resistant.
The L-4033A digital label press incorporates Epson's acclaimed MicroPiezo® inkjet print-head technology with multiple heads combined in an array that moves laterally over a fixed platen. Each head incorporates hundreds of micro-fine nozzles that are precision engineered to ensure ultra-precise drop formation and placement. Each nozzle is driven by a patented electro-mechanical operation that requires minimal power and involves no heat. The technology facilitates durable operation with accurate colour and precise volume control. Integrated Variable-Sized Droplet Technology (VSDT) enables individual droplet volumes to be adjusted for smooth gradations, optimum ink application and minimum consumption. The press produces remarkable output with production resolutions up to 720 x 1440dpi; labels feature bright solid colour, crisp small type, fine line art, and extremely accurate bar codes.
Epson SurePress ink incorporates an advanced all-pigment construction with a resin coating designed to provide precise repeatable colour with a wide gamut and high image stability. The AQ formulation was developed specifically for industrial applications. It features a low toxicity water-based construction that dries quickly to become resistant to moisture and abrasion. It is manufactured to extremely high precision under an ultra-clean environment for consistent performance and maximum press reliability. Ink ships in large 700ml cartridges that are not only quick to load and exchange, but are also cost-effective. The colour set includes two Black inks to suit coated and uncoated media along with Green and Orange ink for accurate reproduction of spot and speciality colours. The inclusion of the additional colours is particularly noticeable in the bright green to yellow and yellow-orange-red portions of the colour space, with enhanced colour saturation and lifelike shades that make labels truly eye-catching. The press can also apply an Over-Print liquid for a glossy finish with additional abrasion resistance. With SurePress you can produce premium quality output that is predictable and consistent with a finish that is durable, bright and packed with punch.
Epson's SurePress™ digital label press provides an innovative solution for short to medium print runs and premium label production. The digital process ensures make-ready time is dramatically reduced while substrate changeover is quick and easy. The ink formulation is compatible with a wide range of media substrates and has been designed to adhere directly without the need for top coats or pre-treatments. Production occurs quickly with a platen heater and an additional air drying system. The press requires minimum oversight and can be managed by a single operator via a menu based touch-screen panel with user-configurable pre-sets. There is no requirement for colour adjustment from the first frame to the last, and there are no drifts in the registration mark. Short-run jobs that were traditionally difficult and time consuming can now be produced quickly, efficiently and profitably. There is little substrate or ink wastage, even with ultra-short-run jobs. There is no plate or film waste, and the ink is water based so there are no special handling processes to worry about. Ink cartridges load in pairs and can be replaced without having to stop the press to enable extended continuous production. Printhead maintenance is automated, periodic maintenance is simple, and cleaning is easy; minimum downtime ensures maximum productivity.
The L-4033A not only delivers on print quality and operational ease, but also output versatility. It prints in adjustable frames up to 914.4mm in length on a huge variety of off-the-shelf substrates up to 320 micron thick and 330.2mm wide. It normally ships with an optional re-winder that produces output rolls that can be fed directly into a range of industry standard finishing equipment. With its ultra-short-run print capabilities it can even be used to produce the occasional direct proof. Installation of an Epson SurePress will not only boost your marketability but leave you amazed at how flexible and cost effective your operation can become.
The SurePress can be driven via a choice of RIP packages from Epson and Esko. These software products have been designed to enable simple, flexible, and intuitive production. Options are available to support workflow control, colour management and advanced functionality. An optional i1Pro X-Rite spectrophotometer with appropriate software gives you the ability to create ICC profiles for custom media substrates with colour-accurate results that can be repeated job after job. With optional variable data support you can even output super-premium jobs with serialised, application and customer specific content. By listening to customers and working with industry-leading manufacturers on every aspect of production, Epson has been able to offer a new open approach that makes adoption of digital label production an easy and cost-effective choice.
Epson's L-4033A comes will all the tools you'll need to not only enter the world of digital label printing, but make it easy and profitable. With a SurePress you have potential to achieve impressive professional results, quickly and efficiently. You can produce superior quality product, complete jobs faster, and boost your bottom line with a wider range of customer-centric print solutions. It's never been easier to go digital.
---
1 Actual production speeds and resolutions will depend on the substrate, RIP and output quality requirement. Refer to specifications for further information.
2 A PC and server with reasonable processing power, memory, storage, and networking facilities (with Web access) will be required. Delivery, installation and after-sales service is co-ordinated by Epson Australia in conjunction with our Authorised Reseller network. It does not cover any work &/or costs associated with connection to the electrical supply, building alterations and room refurbishments. Please consult Epson or one of our Authorised Resellers for further details.