Press Releases
Epson launches the G Series: Powerful installation multimedia projectors
July 2008
Epson launches the G Series: Powerful installation multimedia projectors
Auckland, 11 July 2008: Epson is building on its long-held position as a world leader in business and entertainment projectors with the release of its G Series of powerful installation multimedia projectors with advanced features and multi-level security designed for ease of use in the education, hospitality and professional sectors.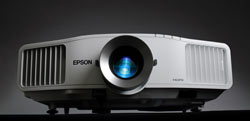 Epson's Business Manager, Visual Imaging, Bruce Bealby, said the G Series projectors - the Epson EB-G5100, EB-G5200W (widescreen) and EB-G5350 (wireless) - is a new class of projectors built with the latest projection technology that further improves Epson's renowned reliability and flexibility.
"As the global and New Zealand leader in projectors, Epson provides a high level of expertise and support to its customers, and is committed to delivering innovative projectors with the latest technologies and advanced integration and networking capabilities," Mr Bealby said.
"The G Series is designed to deliver reliable long term operation and a low total cost of ownership with minimal maintenance in high use and high traffic environments in venues typically used by the education, hospitality and professional sectors."
The EB-G5350 is capable of wireless PC-free operation, supporting Windows Vista Network Presentation capability for easy presentation sharing over networks, and offers XGA resolution at 5000 ANSI lumens brightness and 1000:1 contrast ratio. The EB-G5200W delivers WXGA (1280 x 800) widescreen resolution at 4200 lumens. The Epson EB-G5100 offers XGA resolution at 4000 ANSI lumens brightness and 1000:1 contrast ratio. All G Series projectors feature Epson 3-chip 3LCD High Aperture panels for more intense and sharper images.
All the G Series projectors are designed to interface and integrate more easily with sophisticated programming and controller applications, both IP and RS-232, and come with the components required to work seamlessly with modules and drivers for industry-leading systems that can include touch-panel screens and multiple content devices.
And the Epson G Series projectors have easy maintenance features such as one-touch filter removal and easy side lamp access, providing reliable and flexible operation and a low cost of ownership.
Security features include Kensington®-style lock provision, anchor (metal) bar for security lock or cable, and anti-theft measures for the lens and wireless LAN module.
In line with Epson's long term policy of reducing the environmental impact of its products, the G Series projectors have a higher light efficiency and lower power consumption using Epson's patented E-TORL lamps, lead-free projection lenses, are packaged in recycled paper without using Styrofoam, and the projector case is paint-free for easy recycling.
About the G Series of powerful installation multimedia projectors.
The ease-of-use capabilities built in to the G Series allow systems managers to easily integrate any model with existing network assets, including sophisticated control and audio systems and content devices (i.e., HD boxes, DVD players and video conferencing equipment).
The Epson G Series has a greater range of vertical lens shift - +/-50% - than competitors, and a +/-10% horizontal shift range, again allowing maximum flexibility during installation.
Advanced Connectivity - A full complement of connectivity includes two computer RGB inputs, three component connections (5 BNC and HD15), an HDMI digital port with HDCP, two composite connections via RCA and one BNC, S-Video, RS232, audio out and stereo mini-jack port.
Flexible Lens Positioning - Centred lens design, vertical and horizontal lens shift mechanism and 1.8x wider zoom standard lens allow integrators to easily position the projector and screen in any environment.
Optional Bayonet Lenses- Five easily exchangeable Epson lenses are available for a variety of installation requirements, covering wide angle and long throw distance needs.
High Contrast Ratios - XGA models offer a 1000:1 contrast ratio; the WXGA model offers an 800:1 contrast ratio for greater shadow detail.
Easy Maintenance - Fast and easy filter cleaning and replacement and easy side access to the projector lamp allows for convenient maintenance, saving time even on installed units.
Each G Series projector has innovative control panel located at the rear of the unit, rather than on the top, which allows easy setup and adjustment when the projector is ceiling mounted.
Instant On and Instant Off® - For powering an installed projector on and off with a flip of a power switch.
The Epson G Series projectors are available now through Epson dealers at the following RRP including GST: EB-G5100 - $5900; EB-G5200W $6500; EB-G5350 $6900.
To obtain a high resolution image or a unit for media review, please contact Nika Maltseva at Epson New Zealand Limited on 09 300 3575 or by email at nikam@epson.co.nz
International Press Releases
Read them at: http://www.epson.co.jp/e/newsroom/newsroom_index.htm