Epson UltraChrome - GS2 - Yellow Ink Cartridge - 700ml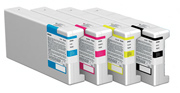 Large Format Ink Cartridges
Epson's UltraChrome GS2 solvent Ink builds on the strengths of UltraChrome GS (developed for the Stylus Pro GS6000). It is compatible with a wide range of industry standard media and features a new formulation that provides for an extended colour gamut as well as enhanced durability. It is rated lightfast for up to THREE YEARS outdoors without the need for lamination*.

UltraChrome GS2 ink is nickel-free and features a low odour. Usage requires no special ventilation, allowing SureColor printers to be installed and operated in office environments.

* The Lightfastness rating is based on internal Epson testing done under ISO 18930. The rating does not represent a warranty or guarantee from Epson in terms of light stability or durability. Actual results will be subject to environmental conditions, application method and media. Epson recommends lamination for any material which is to be displayed in an outdoor environment, subject to a high intensity light source and/or a high level of wear and tear.