Epson Stylus Pro SP-4900 - 17"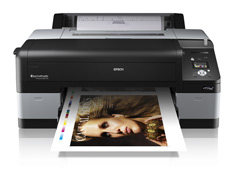 Large Format Printers
A Professional 17" Photo and Proofing Printer with Versatile Media Handling, Reduced Running Costs and Outstanding Image Quality
SIZE
Max Print Width
17 inch (432mm) wide
Max Sheet Size
A2+
PRINT TECHNOLOGY
Print Head
Drop-on-demand MicroPiezo™ TFP
Print Modes
Uni & Bi-directional
Print Technology
VSDT, auto head alignment, auto nozzle checking, auto cleaning, ink repelling coating, auto Pk & Mk switching
Nozzle Configuration
360 per colour
Active Channels
10
Max Resolution
2880 x 1440dpi
Min Droplet Size
3.5pl
INK SYSTEM
Family
Epson Ultrachrome® HDR
Type
Aqueous all-pigment
Colours
11
Cartridge Size
200ml
PERFORMANCE (A0 sheet)
Draft
360 x 360dpi
0.5 minutes
Normal
360 x 720dpi
0.8 minutes
Fine
720 x 720dpi
1.8 minutes
Super Fine
720 x 1440dpi
3.6 minutes
Super Photo
2880 x 1440dpi
7.0 minutes

Figures represent print times only for the Epson test sample image as shown, produced on Plain (draft – fine modes) and Premium Photo paper (super fine & super photo modes). Print speeds are engine only with total throughput time dependant on workflow configuration, paper type, software, file format / size, print resolution, ink coverage, networking, and other factors.

MEDIA SUPPORT
Format
Roll and cut sheet
Size
203-432mm wide x 150mm diameter 3" core / 103mm diameter 2" core roll, A4-A2+ sheet
Thickness
0.08-0.5mm roll / 0.08-1.5mm sheet
Min Margins
0mm top, left, right & bottom roll / 3mm top, 0mm left & right, 14mm bottom sheet
Loading
Front manual, front cassette (up to 250 plain & 100 photo sheets), top manual, top roll (spindle style with dual tension settings), and rear manual
Handling
Heavy-duty rotary auto-cutter (under 5s per page) & Media Barcode System
Output
Front with extendable tray
OPERATION
Control Panel
2.5" Colour LCD
Interface
High Speed USB 2.0
Ethernet 10Base-T / 100Base-T
Included Software
Printer Driver, LFP RemotePanel 2, EpsonNet Config, EpsonNet Print, EpsonNet setup
OS Compatibility
Linux, Mac OS X 10.4, Leopard 10.5, Snow Leopard 10.6, Lion 10.7, Mountain Lion 10.8, Windows 8, Win 7, Win 7 x64, Win Vista, Win Vista x64 & Win XP
Software Compatibility
Compatible with a wide range of design, production, workflow management and RIP software
Memory
256MB Main + 64MB Network
Language
ESC/P Raster
ENVIRONMENTAL
Operational Temp
10° to 35° C (15-25° C recommended)
Operational Humidity
20 to 80% with no condensation (40-60% recommended)
Power Supply
100 - 240 V, 50 Hz - 60 Hz AC, 0.4-0.7A
Power Consumption
52W Operating / 8.5W Sleep
Operating Noise
45dB
PHYSICAL
Dimensions
863mm x 405mm x 766mm (WxHxD)
Weight
52kg (without ink)
WHAT'S IN THE BOX
Printer, Power Cord, Set of 80ml Inks (note 20-50% may be used during initialisation), 1 x Spindle, 1 x Maintenance Tank, 1 x Borderless Maintenance Tank, 2 x Borderless Print Spacers, Installation / Safety manual, Utility software & User manual (CD)
CONFIGURATION OPTIONS
PRO49001YR
Printer with 1 Year On-site Warranty**
PRO49003YR
Printer with 3 Year On-site Warranty**
PRO49005YR
Printer with 5 Year On-site Warranty**
PRO4900NUV
Printer + S-Proofer ILS20 (non-UV), 1 Yr On-site Warranty**
PRO4900NUV3YR
Printer + S-Proofer ILS20 (non-UV), 3 Yr On-site Warranty**
PRO4900UV
Printer + S-Proofer ILS20 (UV Filter), 1 Yr On-site Warranty**
PRO4900UV3YR
Printer + S-Proofer ILS20 (UV Filter), 3 Yr On-site Warranty**
PRO4900SP
Printer + S-Proofer ILS30, 1 Yr On-site Warranty**
PRO4900SP3YR
Printer + S-Proofer ILS30, 3 Yr On-site Warranty**
PRO4900SP5YR
Printer + S-Proofer ILS30, 5 Yr On-site Warranty**
ACCESSORIES & OPTIONS
C12C811251
Additional Dual Tension Roll-Feed Spindle
C12C890121
Optional Roll Paper Belt
C12C815351
Replacement Auto Cutter Blade
C12C619000
Replacement Maintenance Tank
C12C619100
Replacement Borderless Maintenance Tank
SPECTRO17NUV
SpectroProofer ILS20 (non-UV) Upgrade Kit
SPECTRO17UV
SpectroProofer ILS20 (UV Filter) Upgrade Kit
SPECTRO17SP
SpectroProofer ILS30 Upgrade Kit
1YWPRO4900
1 Year On-Site Printer Service Pack**
2YWPRO4900
2 Year On-Site Printer Service Pack**
1YWSPECTRO
1 Year On-Site Spectro Service Pack**
2YWSPECTRO
2 Year On-Site Spectro Service Pack**
** Service Packs enable basic warranty cover to be extended. One or more Service Packs can be ordered in conjunction with the various printer configurations &/or options to enable cover for 1, 2, 3, 4 and 5 year periods (total cover cannot exceed 5 years). Service and support is only provided for product supplied through Epson Australia. This facility is provided in conjunction with the Authorised Large Format Reseller through which the product is ordered. Limitations apply to the provision of warranty upgrades and on-site service. Regional locations and certain installation situations may attract additional charges. Service may be restricted or limited when equipment is used outside of specification &/or with non-Epson consumables. For full details on coverage, terms and limitations please review the warranty terms listed on this web-site and contact Epson Australia or one of our Authorised Large Format Resellers if you have questions or concerns.
| | | | |
| --- | --- | --- | --- |
| | As an International ENERGY STAR Partner, Epson has determined that this product meets the International ENERGY STAR guidelines for energy efficiency. | | Epson is the registered trademark of Seiko Epson Corporation. Epson trademarks of Seiko Epson Corporation. All other names and company names used herein are for identification purpose only and may be the trademarks or registered trademarks of their respective owners. Epson disclaims any and all rights in those marks. All print samples shown herein are simulations. Specifications are subject to change without notice. |
Usage Conditions
Epson products are designed and made to give highly reliable use and long life when used according to its specifications. With any system, product or device used in situations where human life may be involved or at risk, Epson advises that you should take all necessary steps to ensure the suitability of your Epson product for inclusion in your system, and recommends that you include fail-safe procedures and redundancy support or backup equipment in your system, to maintain the maximum safety margin and optimum system reliability. Examples include but are not limited to – do not interfere with any electrical components within the device, do not use items supplied with the product for purposes other than as intended by Epson (ie mains cords, inks, CDs, plastic wrapping) and do not make modifications to the product.