Inkjet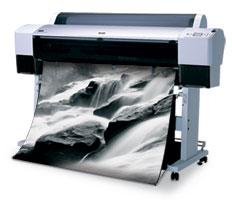 Globally, Epson is recognised as being at the very forefront of superb inkjet colour printing. Innovations in technology research and development, product design and market understanding have produced one of the world's most comprehensive ranges of high quality, high performance colour inkjet printers.
Large Format Printers

Epson's large format printers are the choice of professional artists, photographers, commercial printers, production managers, pre-press houses and designers. Delivering brilliant image quality on a broad range of general and specific-purpose media, Epson large format printers maximise productivity and quality.

Multi-Function and Colour Inkjet Printers

Versatility, reliability and quality underpin an impressive range of compact, easy to use inkjets and all-in-one printers. Incorporating Epson's award-winning Micro Piezo technology and the Epson PerfectPicture Imaging System, these printers continue to set the standard for desktop printing quality.
"A few years ago, I wouldn't have considered in-house colour and black-and-white professional photographic printing to be a reality. Now, with the [Epson Large Format Printers], I'd be hard pressed to consider any alternative." - Grenville Turner, Award-Winning Professional Photographer
Micro Piezo Print Head Technology
The key technology that underpins the outstanding quality and resolution of Epson inkjet printers is the Epson Micro Piezo Print Head Technology, which utilises advanced solid-state technology to afford precise control over ink droplet size and placement.
Variable Sized Droplet Technology
Utilising the ink control precision achieved by means of the Micro Piezo Print Head, Epson's proprietary and unique Variable Sized Droplet Technology enables printers to vary ink droplet sizes, thereby optimising print speed without sacrificing quality.
PhotoEnhance
Epson PhotoEnhance automatically identifies components of photos that contain people, faces, or landscapes and adjusts the colour balances and brightness to produce the optimum output.
Ink Technologies
In the critical field of ink development, Epson is an absolute leader, developing a range of inks that meet the specific requirements of different applications. Inks, such as Epson's Claria, UltraChrome, UltraChrome K3, DuraBrite and DuraBrite Ultra are critically acclaimed and deliver outstanding results.