Laser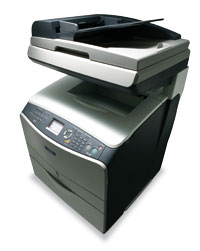 Quality and reliability are integral features inherent within each Epson laser printer.
Epson has created a range of industry leading laser printers by building on technology breakthroughs made by research scientists and engineers. These innovations have been in diverse fields such as toner chemistry, printer engine design and high volume image data processing.
Multi Function, Colour and Monochrome Laser Printers

Designed to meet the increasingly complex imaging needs of today's businesses of all sizes, Epson laser printers deliver outstanding versatility, quality and reliability in either standalone or high demand network environments.
Epson laser printers incorporate advanced technologies that set them in a class of their own.
AcuLaser 4-2-1 Tandem Engine
Using an innovative system where the printer engine processes all four colours simultaneously, this high performance engine delivers prints with superb colour registration in a fraction of the time it takes a conventional colour laser printer.
ASIC (Application-Specific Integrated Circuits)
ASICs utilise advanced colour print data processing software to enhance print image data processing speed.
Intelligent Line Screening Technology
Epson's Intelligence Line Screening Technology distinguishes between photographic images, text and line drawings then alters Line Screening and Colour Correction to ensure optimum results for each component.
Epson AcuBrite Toner
A unique, specially formulated toner that delivers prints with improved glossiness and wider colour gamut.