Press Releases
Epson's new concept photo printer with UltraChrome Hi-Gloss eight cartridge ink set
May 2004
Sydney 19 May 2004: Epson Australia has announced the release of a top of the performance range new concept desktop photo printer with revolutionary new eight cartridge printing system aimed at serious photographers and graphic designers who demand high image quality and print durability at sizes up to A4.
The Epson STYLUS PHOTO R800 creates supreme archival quality matte or gloss prints of outstanding colour range and durability using Epson's new UltraChrome Hi-Gloss™ pigment ink, developed specifically for the STYLUS PHOTO R800.
"Serious photographers and digital artists want archival quality and durability that comes with prints made with pigment inks, but up to now they have been concerned that the colour range and brilliance will not be as good as prints made with dye inks," Irma van Leeuwen, Epson Australia Business Marketing Manager - Inkjets and MFP, said today.
"Epson has removed that concern with this revolutionary new ink. The UltraChrome Hi-Gloss ink set is designed to meet the demanding durability, colour gamut, brilliance and tone requirements of photographers and digital artists," Irma said.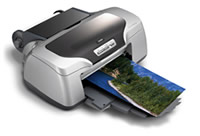 The STYLUS PHOTO R800 won the best photo printer award at this year's Technical Image Press Association (TIPA) awards in Europe, being recognised by the 31 publications that belong to TIPA for its outstanding innovation and technical excellence.
With an eight channel print head and eight individual cartridges for maximum printing efficiency, the STYLUS PHOTO R800 adds UltraChrome Hi-Gloss red and blue inks to the standard cyan, magenta, and yellow to increase the colour gamut available on all prints, adding brilliance and depth to sky, sea, sunsets, autumnal scenes and skin tones.
The colour gamut for UltraChrome Hi-Gloss ink on glossy paper is larger than most current ink sets. To bring out the subtle detail in shadows and tones that lifts the image off the page, the STYLUS PHOTO R800 uses separate Matte and Photo Black UltraChrome Hi-Gloss ink cartridges, with the printer driver choosing which black ink to use based on the paper type selected.
A new Gloss Optimiser completes the UltraChrome Hi-Gloss eight cartridge ink set and is used to create a uniform gloss finish across the entire print surface on glossy paper - even in areas where no ink has been used. This adds to the overall quality of photographic prints, with a gloss finish comparable to silver halide prints, but with a longer lifetime.
Gloss Optimiser is the same high density clear resin used to encapsulate the pigment particles in the coloured ink. For normal ink sets, the gloss level of unprinted glossy photo paper and areas of low ink coverage is not as high as with UltraChrome Hi Gloss, creating a non-uniform shine on the print. Gloss Optimiser eliminates this difference.
To crown the sophisticated photographic and graphic design specifications of the STYLUS PHOTO R800, Epson's Advanced MicroPiezo print head delivers a 1.5-picolitre ink droplet at resolutions up to 5760 x 1440 optimised dpi, setting a new standard as the smallest droplet size in the ink jet printer industry.
The result of these advances in the UltraChrome Hi-Gloss eight cartridge ink set is archival quality photographic prints that are durable for more than 80 years on Epson's Premium Glossy Photo Paper and more than 100 years on Epson's Archival Matte Paper.
The STYLUS PHOTO R800 handles a range of paper sizes and styles, including roll paper of 100mm and 210mm widths, and also features direct CD printing, enabling customers to print directly onto printable CDs or DVDs by placing them in a tray that slides through the printer's front-loading, straight-through paper path. Customers can create their own CD or DVD designs, or use colourful backgrounds and images from the Epson Print CD software, which now supports Mac OS 10.2 or higher and comes bundled with the printer.
Other software provided with the STYLUS PHOTO R800 includes PhotoQuicker ver. 3.5, PIF Tool Ver. 2.1, PIF Designer Ver. 2.1, Print CD Ver. 1.2.0 for Windows/Ver. 1.2.1 for Macintosh, and support for Exif2.2, and Print Image Matching [PIM].
For fast operation with either PC/Windows or Macintosh systems the STYLUS PHOTO offers Advanced IEEE 1394 (FireWire) and USB 2.0 Hi-Speed connections.
The Epson STYLUS PHOTO R800 will be available in June through Epson dealers for the recommended retail price of $699 including GST. For full specifications on this and other Epson photo printers, including print durability, please refer to www.epson.com.au
Using industry standard tests. For further details on lightfastness test criteria, please refer to www.epson.com.au
Epson Customer Hotline: 1300 131 928
International Press Releases
Read them at: http://www.epson.co.jp/e/newsroom/newsroom_index.htm