Epson LQ-570+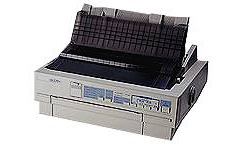 24-Pin Dot Matrix Printers
The LQ-570+ is a very versatile 80 column printer with standard features to satisfy the needs of small/medium business and home/office users. It is a well featured printer with excellent print quality and high resolution plus superb paper handling flexibility.
The Epson LQ-570+ delivers superior printing, faster, with print speeds of up to 269cps in draft or 90cps in LQ mode at 12cpi.and quieter operation [approximately 46.5dB(a)], enhanced scalable fonts, faster graphics and exceptional flexibility
Extremely quiet and easy to use, this versatile printer has multiple paper paths and reliable tractor feeds to suit all printing needs.