Wired or Wireless Network Connectivity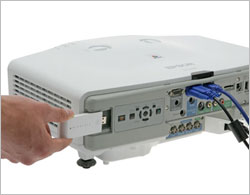 Absolute flexibility in today's network environments
A key benefit of the Epson EB-G5350 is its ability to be network connected either wired – via the in–built RJ–45 network connector – or wirelessly*.
Using Epson's NS connection wireless mode, the Epson EB-G5350 supports 802.11a/b/g protocols, achieving a wireless* transfer rate of up to 54Mbps. This high speed wireless* capability represents new levels of presentation performance and freedom. It is also possible to connect to a network (wired or wireless) using the Micosoft Windows Vista™ Network Projector Function..
Contributing significantly to the Epson EB-G5350's high performance when operating in a wireless* network environment is the Epson NS Connection technology, designed specifically to improve the compression and decompression of data; resulting in superb image quality and transfer speed.
Note: EMP NS Connection, EMP Monitor or EMP Slidemaker2 software does not support Win XP 64bit or Win Vista 64bit.
* Wireless adapter required (option code: V12H306P11).