Epson Stylus C70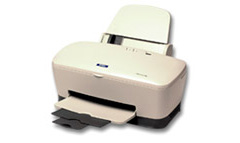 4 Colour Inkjet Printer
Fast 16 ppm?, inkjet printer for greater Productivity.
In the world of business, printing is a serious matter. Presentations, financial reports, business correspondence - they all demand a printer that actually supports the importance of any document. With the Epson Stylus C70, total print dependability is the key. It?s a dependability built on the printer?s speed, intelligence, print durability and precision. In essence, a printer designed to meet the needs of today?s fast business world.
With the Epson STYLUS C70 you?ll benefit from a business colour printer that has everything it takes to be:
Fast - Up to 16 ppm for black text (Memo) A4. (See Specifications & Options page for Print Speed Data). It?s a printer with the speed capabilities to match the fast pace of modern business.
Intelligent - Constant monitoring of ink consumption with the Intellidge® ink system in each of the four ink cartridges.
Print Innovative - Pigment inks for prints that are fade-, water- and smudge-resistant, and QuickDry Inks. Perfect for the business environment that demands documents retain their appearance and legibility regardless of handling and even mistreatment.
Precise - Super fine and detailed printing with up to 2880 dpi, MicroPiezo Print Head and 3pl Variable Sized Droplet Technology. Precision printing capabilities that ensure text is printed with incredible crispness and every graph, image and logo has maximum impact.
1
(See Specifications & Options page for Print Speed Data).