Epson Stylus C82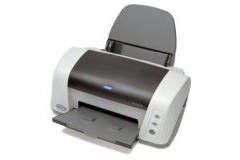 4 Colour Inkjet Printer
The Fast, Durable, Business Ink Jet Printer.
The Epson Stylus C82 utilises the latest advances in inkjet technology from Epson giving you outstanding quality on plain or specialty papers.
The STYLUS C82 is fast - printing up to 22* pages per minute of black text (A4 memo).

(*see specifications page for print speed data)

The STYLUS C82 produces great quality prints. Resolution has been optimised at 5760 dpi using RPM technology and smaller ink dots are produced thanks to Variable Sized Droplet Technology.
Capable of printing beautiful business documents, as well as reproducing photos with fantastic quality, the STYLUS C82 has all your needs covered. Versatility is what you get with the STYLUS C82.
Finally, a printer that is easy to understand and easy to use. The STYLUS C82 comes equipped with the latest advances in printer drivers. Not only can you access all the information from your computer screen, but the STYLUS C82 gives you as much control as you like (from basic to advanced), depending on your skill level.
When it comes to initial impact, there's nothing like a document that has high colour fidelity. With four separate colour cartridges (Cyan, Magenta, Yellow and Black), the STYLUS C82 gives your documents best-in-class colour quality. Colour quality for maximum impact.
You can also monitor your ink levels from your computer screen thanks to the inclusion of the Intellidge Ink System in the STYLUS C82. Each time you print a document, the ink level of each cartridge is displayed.
DURABrite ink is a phenomenal development in inkjet inks and printing. The inks are perfect for the harsh conditions of a business environment and produce superb results on plain paper. To find out more about DURABrite inks click here.