Epson ALC2000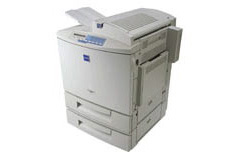 If colour laser printing appeals to you, but you think it's way beyond your budget, think again. The AcuLaser C2000 gives you all the advantages of colour printing at a very affordable price, and with economical operation.

Advanced Epson technology for Superb Colour Quality

If you're going to print in colour, you want to see bright, lively colours that enhance, rather than detract from your work. The Aculaser C2000 ensures that colours are accurate and consistent through the use of a number of exclusive Epson technologies, including AcuLaser Multiple-screen Printing, Colour RIT (Resolution Improvement Technology) and Colour Stabilizing. In addition, AcuLaser Colour Halftoning provides print resolution equivalent to 2,400 dpi (defined print resolution: 600dpi). Halftoning also improves the quality of the all-important black output, so text is extremely sharp and photos have excellent contrast.

Colour Printing at 5ppm and Black/White at a Quick 20ppm

Even with this excellent print quality, the AcuLaser C2000 has not sacrificed anything in terms of speed. In fact, its 5ppm/20ppm speeds make it faster than other printers in its class. Once again, the reason is Epson technology. We've speeded up image processing by installing a dedicated ASIC (Application Specific IC) in the printer. Plus, we've used a powerful 266MHz RISC processor. And with a warmup time of only 160 seconds as opposed to the usual 5 minutes, and first print time of 25 seconds (colour), you'll have your jobs quicker. These differences may seem slight, but when printing out large rush jobs, the added speed is extremely welcome.

Large Paper Capacity with Versatile Paper Handling

The AcuLaser C2000 is a winner in terms of paper capacity, too. The main paper cassette holds 500 sheets, the Multi-Purpose tray holds 150 sheets, and an optional lower cassette lets you add another 500 sheets. Less frequent paper changes mean higher efficiency. What's more, you can output as many as 500 sheets at one time (with many other printers, this is not possible). The main cassette holds A4 or letter size paper, while the Multi-Purpose tray lets you use a wide variety of paper sizes and thicknesses. And when you want to print on both sides of each sheet, a compact optional Duplex unit can be quickly attached.

Easy Operation and Network
Connectivity

Bundled software makes the C2000 extremely easy to control. From selecting print layouts to adjusting colour control and tracking job status, the intuitive interface displays a variety of information to make printing quick and easy.

Integrating your AcuLaser C2000 into an office network is simple with IEEE 1284-compliant high-speed parallel interface and an Ethernet 100Base-TX interface.

Numerous Options for Higher Efficiency

Versatility is the key here, with options such as a Duplex unit for double-sided printing, a hard disk for extra memory and Adobe PostScript 3 kit for improved performance with many graphics and page layout applications.

Simple Maintenance and Outstanding Economy

Quality and speed are important, but the AcuLaser C2000 also offers easy replacement of cartridges, toner unit and photoconductor unit, minimizing down time and lower service costs. And because all parts are extremely long-lasting, per-page print costs are highly economical.

With the AcuLaser C2000, Epson makes colour printing more accessible with higher quality, higher speed at an affordable price.