Epson EB-1761W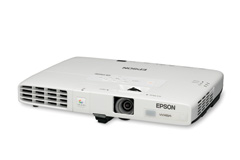 Corporate Portable Multimedia Projectors
The Ultra Mobile, Ultra Bright Solution for Busy Executives
If you are interested in purchasing an Epson Projector please call 0800 377 664 to discuss your requirements or to find projector resellers in your area.
Distance CalculatorDownload
Its sleek, lightweight design, widescreen WXGA resolution and 2600 lumens colour / white light output make it easy for the Epson EB-1761W to deliver brilliant widescreen presentations. Offering a great combination of value, convenience and performance, the EB-1761W features native WXGA (1280 x 800) resolution and easy wireless connectivity. So you get amazing performance, ease of use and brilliant output — all from one ultra-thin projector.

Key Features
Easy to use features – Horizontal and Vertical keystone correction makes setup a breeze
Small and Light Weight – Only 45mm thick, and 1.71kg in weight
Wireless 802.11b/g/n – Included standard with the EB-1761W
iProjection –Display and control content from your iPhone®, iPad® or iPod® touch with the Epson iProjection App and any nearby wireless or networked Epson projector.
USB Plug 'n Play - Transmit Images, Sound and Mouse Operation through one USB cable
DICOM Simulation Mode - Specialised imaging uses standardised greyscale to reproduce medical images such as x-rays for medical training and education
Low Total Cost of Ownership – Low cost lamps available
Broad Connectivity – HDMI, VGA, Video (RCA), USB Type B, USB Type A, Audio (stereo mini)
Easy-To-Use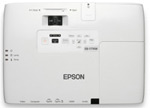 The Epson EB-1761W was designed for absolute ease of use. Simply turn on the power, direct the projector towards the screen or wall and the image is automatically adjusted with any vertical keystoning corrected. In line with the screen aspect of most notebook PCs, the EB-1761W projects in a native WXGA widescreen aspect, meaning no complications. Simply connect, and project!
Network and Wireless Capability
The EB-1761W can remove the need for untidy, complicated cabling, and connect to your 802.11b/g/n wireless network via the ELPAP07 wireless LAN module. For added simplicity, the ELPAP08 USB Quick Wireless Connection Key enables users to make a quick peer to peer connection to a PC.
iProjection


Display and control content from your iPhone®, iPad® or iPod® touch with the EPSON iProjection App and any nearby wireless or networked Epson projector. Whether projecting a PowerPoint® presentation loaded to the iProjection App or a photo slideshow from your iPad, Epson's iProjection gives you the wireless freedom you've come to expect from your mobile device. This App is easy to use and navigate with intuitive menu options that make it simple to bring your iOS content to the big screen.
USB Plug 'n Play and USB Memory Slide Show
The EB-1761W can display your presentation with image, audio and mouse control via a connection to a PC or Mac with a simple USB cable. You can also create and display images directly from a USB memory device, making it possible to give presentations without the need for a PC.
DICOM Simulation Mode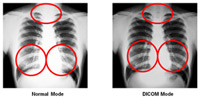 DICOM (Digital Imaging and Communication in Medicine) is a standard for handling, storing, printing, and transmitting information in medical imaging, which includes a file format definition and a network communications protocol. The DICOM simulation mode in the EB-1761W can reproduce images with gray level very close to DICOM Part 14 (Grayscale Standard Display Function). This mode is ideal for viewing grayscale medical images such as X-ray pictures for training and education in the medical institutions.
Split Screen Project two images (video or still) side-by-side from two different sources simultaneously. Choose from three layout options. You can swap the images as well as choose the source for audio.
PDF Viewer and Movie Playback
Users can display PDF or motion JPEG files saved to a USB flash drive directly from the projector, no conversion needed.
Direct Connect to ELP-DC06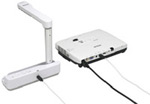 Further enhancing suitability to the modern corporate environment is the ability for the EB-1761W to connect directly to the Epson ELP-DC06 document camera / visualiser. These Epson products feature unique technology enabling them to connect via USB and provide full operation without the need for a PC.
Low Power Consumption – EuP Compliance
At Epson, we know that planning for the future requires a strong commitment to the environment. That's why these products conform to the new European Directive on Eco-Design of energy using products. The main objective of this directive is to ensure energy efficiency throughout a product's lifecycle. Each of the models in the EB-1700 series conform to the criteria of this directive.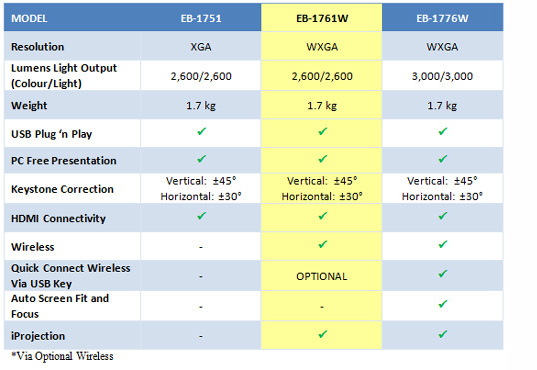 Connectivity Panel