Epson EB-G5350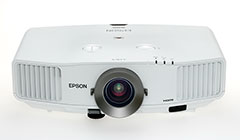 Installation Multimedia Projectors
The perfect balance between precision and performance with wireless access
PRODUCT TYPE
Portable Multimedia Projector
PRODUCT NAME
Epson EB-G5350
PRODUCT CODE
V11H286053
PROJECTION SYSTEM
RGB Liquid Crystal Shutter Projection System
PROJECTION METHOD
Front / Rear / Ceiling Mount
SPECIFICATION OF MAIN PARTS
LCD
Size
0.8 inches with MLA
Driving method
Poly-Silicon TFT Active Matrix
Pixel number
786,432 pixels (1024 x 768) x 3
Native resolution
XGA
Aspect ratio
4:3
Pixel arrangement
Cross Stripe
Refresh Rate
50Hz-60Hz
PROJECTION LENS
Type
Manual: zoom / focus
F-number
1.64 - 2.5
Focus length
21.27 - 37.93mm
Zoom ratio
1:1.8
PROJECTION LAMP
Type
E-TORL 210 W UHE
Optical System
Dichroic Mirror Separation & Prism Combine Method
SCREEN SIZE (PROJECTED DISTANCE)
30 to 300 inch [0.77m to 8.08m] (Zoom: Wide),
30 to 300 inch [1.42m to 14.57m] (Zoom: Tele)
100" screen 2.66m – 4.83m
LENS SHIFT RANGE
MANUAL
Vertical +/-50% max
(upward and downward)
Horizontal +/-10% max
(left and right)
BRIGHTNESS
High Brightness Mode
5,000 Lumens Light Output
5,000 Lumens Colour Light Output
(Colour mode: Game, Zoom: Wide)
Low Brightness Mode
3,200 Lumens Light Output
3,200 Lumens Colour Light Output
(Colour mode: Game, Zoom: Wide)
CONTRAST
1000:1
BRIGHTNESS UNIFORMITY
86%
COLOUR REPRODUCTIVITY
Full colour (16.77 million colours)
SOUND OUTPUT (Internal speaker)
7W monaural
FUNCTION
Pointer, User Logo, A/V mute, Freeze, E Zoom, Test pattern
EFFECTIVE SCANNING FREQUENCY RANGE (Analog)
PIXEL CLOCK
13.5MHz to 162MHz ( up to UXGA 60Hz )
HORIZONTAL
15KHz to 99KHz
VERTICAL
50Hz to 120Hz
ADJUSTMENT FUNCTION
PROJECTOR / REMOTE CONTROL
Keystone / Brightness / Contrast / Tint / Saturation / Sound / Input signal
FOOT ADJUSTER
Front-centre / Rear side
TILT ANGLE
-2.5 to 10 degrees
KEYSTONE CORRECTION
Vertical: -40 to +40 degrees (Zoom: Tele)
Horizontal: -20 to +20 degrees (Zoom: Tele)

QUICK CORNER

Yes
SOURCE SEARCH
Yes
AUTO DETECTION OF RGB YCbCr
Yes
MULTI SCREEN COLOUR ADJUSTMENT
Yes
OPERATION PANEL PROTECTION
Yes
PASSWORD PROTECTED
Yes
HIGH ALTITUDE MODE
Yes
COLOUR MODE
PC Photo, Presentation,Text, Theatre, Game, SRGB, Blackboard.
ANALOGUE RGB I/O
DISPLAY PERFORMANCE
Native
1024 x 768 pixels
INPUT SIGNAL
Signal type
Separate signal
Video signal
Analogue (0.7Vpp, 75ohm / Mac 0.714Vpp, 75ohm)
Sync. signal
Separate (positive & negative, bi-polarity 2-5Vpp) / Composite (positive & negative, bi-polarity 2-5Vpp) / Sync-on-green (negative, 0.3Vpp)
Audio signal
500mVrms / 47K-ohm
VIDEO INPUT TERMINAL
D-sub 15pin x 2 Blue-moulding
VIDEO I/O
DISPLAY PERFORMANCE
NTSC: 560 lines PAL: 560 lines (Depends on observation of the multi burst pattern)
INPUT SIGNAL
Video standard
NTSC / NTSC4.43 / PAL / M-PAL / N-PAL / PAL60 / SECAM
Video signal
Composite Video (1.0Vpp / sync negative, 75ohm) / S-Video (Luminous 0.714Vpp, Chrominous 0.286Vpp, 75ohm) / Component Video (Analog Y level 0.7V 75 ohm / Cr Cb level +/-0.35V 75ohm / sync negative 0.3V or 3-state +/-0.3V on Y) / Video-RGB (0.7Vpp, 75ohm / Mac 0.714Vpp, 75ohm)
Audio signal
500mVrms / 47Kohm
VIDEO INPUT TERMINAL

Composite Video: RCA (Yellow) x 1
S-Video: Mini DIN
Component Video: Mini D-sub 15pin Blue-moulding x 2
(in common with Analog RGB connector)
Video-RGB: Mini D-sub 15pin 2 x Blue-moulding
(in common with Analog RGB connector

CONTROL I/O
USB I/O
I/O terminal
Type B x 1 ( for USB Display )
Type A x 1 ( for PC Free )
I/O speed
Type B x 1 ver 2.0
Type A ver 2.0
SERIAL I/O
I/O Terminal
D-sub 9 pin x 1
I/O signal
RS-232C
HDMI
Input signal
Video standard
Video signal
480i/576i/480p/576p/720p/1080i/1080p
TMDS ( signal for HDMI )
Input terminal
Audio signal
Video

Linear PCM
HDMI x 1 (Correspond to HDCP)
NETWORK I/O
USB I/O
Type
Type A x 1
Wireless LAN unit
Optional
Wired LAN
RJ45 x 1
CARD SLOT
Type
CF x 1 ( 3.3V )
Wireless Specification
Supported speeds for each mode
IEEE 802.11b: 11Mbps
IEEE 802.11g: 54Mbps
IEEE 802.11a: 54Mbps

• Maximum speed and range is achievable when used with same enhanced mode technology. Actual data rates, features and performance may vary depending on your computer system, the environment and other factors.
Supported mode
Adhoc, infrastructure
Certification
Wi-Fi Certified
Card Slot
SD Card x 1 ( for PC Free )
OPERATING TEMPERATURE
0°C to 40°C (32°F to 104°F), (20% - 80% Humidity unfrozen)
Thermal shutdown > 45 degree C
0°C to 35°C (32°F to 95°F), ( over 1500m with high altitude mode, High brightness
OPERATING ALTITUDE
0m to 3000m < 0ft to 9843ft >
(over 1500m / 4,921ft with high altitude mode)
DIRECT POWER ON
Yes
DIRECT POWER OFF
Yes
COOL-DOWN PERIOD
Instant Off
THEFT PROOF
Wireless LAN Unit Lock
Yes
Security Cable
Yes
Kensington Lock
Yes
POWER SUPPLY VOLTAGE
100-240V AC±10% 50/60Hz
POWER CONSUMPTION
Lamp On
327W
Stand by ( network on )
12W
Stand by ( network off )
0.6W
DIMENSION
EXCLUDE FEET
311.5mm(D) x 470mm(W) x 135mm(H)
MAXIMUM DIMENSION
311.5mm(D) x 470mm(W) x 151.5mm(H)
WEIGHT
Approx. 6.8Kg
FAN NOISE
HIGH BRIGHTNESS MODE
35dB
LOW BRIGHTNESS MODE
29dB
ACCESSORIES
POWER CABLE
3m
COMPUTER CABLE

1.8m, D-sub 15pin (Male) - Mini D-sub 15pin (Male)

USB CABLE
N/A
REMOTE CONTROL
Included
BATTERY
Alkaline AA x 2
USER MANUAL SET
Included (CD-ROM)
PROJECTOR SOFTWARE
Included (CD-ROM)
PASSWORD PROTECT STICKER
Included
EASY MP
Function

Projector control and projector management via network
Email notification
SNMP
PC Free ( photo, Image . movie )
Network presentation ( Network and USB )
PJ Link
AMX Device Discovery
Web Control
Moving Sending
Transferring and writing files to memory card from network
Windows Vista Presentation ( Pictor )


Software
EMP IP Link ( for Windows*) Web downloaded only
EMP Monitor (for Windows*#)
EMP NS Connection (for Windows*# and Mac)
EMP Slide Maker2 (for Windows*#)
Security (Wireless LAN)
WEP, WPA-PSK (TKIP/AES), WPA2-PSK(TKIP/AES)
EAP-TLS, PEAP-TTLS/M5-CHAPv2
EAP-TTLS/MD55.EAP-TTLS/MS-CHAPV2
PEAP/MS-CHAPV2,PEAP/GTC
LEAP EAP-fast/MS-CHAPv2 EAP-Fast/GTC

PC FREE
Still Image
JPEG/PNG/BMP/GIF
Movie
MPEG2/MPEG4/MPEG4 AVC/ WMV
Microsoft Powerpoint™
Need to be converted by Slide Maker2
USB Devices
USB A x 1
Other storage
SD x 1
* Software compatible with MS Vista
# EMP NS Connection, EMP Monitor or EMP Slidemaker2 software does not support Win XP 64bit or Win Vista 64bit.
WARRANTY
STANDARD WARRANTY
2 years*


*excluding lamp

* For more information visit Epson Projector Warranty
PRODUCT CODE
V11H286053
PRODUCT OPTIONS
Item Code
Description
V11H272953

Main projector unit without standard lens

V12H004R03

Rear Projection Lens

V12H004M04

Mid Throw Lens 1

V12H004M05

Mid throw Lens 2

V12H004L06

Long Throw Lens

V13H134A17
Air Filter
V12H306P11
Wireless Module
Epson is the registered trademark of Seiko Epson Corporation. Epson ESC/P2 and Epson Stylus are trademarks of Seiko Epson Corporation. MicroDot is a trademark of Epson Australia Pty Limited. All other product names and other company names used herein are for identification purposes only and may be the trademarks or registered trademarks of their respective owners. Epson disclaims any and all rights in those marks. Specifications are subject to change without notice.
Equipment supplied by Epson New Zealand is designed to function in conjunction with genuine Epson consumables and accessories specifically configured for it.
Usage Conditions
Epson products are designed and made to give highly reliable use and long life when used according to its specifications. With any system, product or device used in situations where human life may be involved or at risk, Epson advises that you should take all necessary steps to ensure the suitability of your Epson product for inclusion in your system, and recommends that you include fail-safe procedures and redundancy support or backup equipment in your system, to maintain the maximum safety margin and optimum system reliability. Examples include but are not limited to – do not interfere with any electrical components within the device, do not use items supplied with the product for purposes other than as intended by Epson (ie mains cords, inks, CDs, plastic wrapping) and do not make modifications to the product.