Epson EB-Z10000 / EB-Z10005
Installation Multimedia Projectors
Cinema quality images with the power of 10,000 lumens
If you are interested in purchasing an Epson Projector please call 0800 377 664 to discuss your requirements or to find projector resellers in your area.
Distance CalculatorDownload
Powerful performance with easy maintenance and management features, Epson's EB-Z10000 projector is capable of creating captivating presentations in virtually any venue. Native XGA resolution, and boasting innovative features that deliver unparalleled image quality, The EB-Z10000 is in a class of its own.
KEY FEATURES:
Cinema Quality Image – C2Fine LCD Panels, Cinema Filter, DCDi chip, Super Resolution and more combine to deliver phenomenal image quality
Edge Blending – Combine multiple individual images to create one seamless giant image
2X HDMI connections – Digital quality and flexibility
Tool Free Replacements – Replace lamps and filters without using any tools
360° Installation – Install on any plane, from horizontal to vertical and everything in between
Arc and Point Correction – Fine tune image geometry to perfection
FEATURES AND BENEFITS:
Cinema Quality Images
Powered by 3LCD technology, and capable of producing White Light and Colour Light Output of 10,000 lumens, the EB-Z10000 delivers captivating images in virtually any venue.
C2Fine Technology for blacker blacks
C2Fine technology offers smooth, uniform images with exceptional contrast for better image quality. Based on this new phase-compensation technology, light leakage is eliminated, allowing for the reproduction of blacker blacks. C2Fine technology is combined with an auto iris, which allows for a contrast ratio up to 5,000:1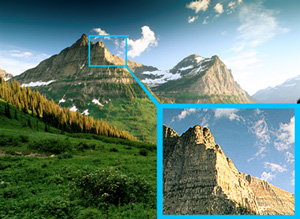 Enhanced Super Resolution technology for sharp, rich images
Epson's Super Resolution technology makes standard, and high definition content come alive via its mixed colour separation techniques and imaging simulation. It delivers crisp, clear images with super high-quality resolution, and sharpens blurry images that have been enlarged by a general upscaling process.
Award-winning Faroudja DCDi® Cinema for advanced video
The EB-Z10000 features a Faroudja DCDi Cinema chipset, a video enhancement technology that produces exceptional image quality without introducing artefacts. Faroudja DCDi (Directional Correlational Deinterlacing) was developed to eliminate jagging, using a unique algorithm. This technology, in combination with decoding, Deinterlacing and enhancement technologies, won an Emmy Award from the National Academy of Television Arts and Sciences.
6-Axis Colour Adjustment
For special projection material such as high-quality photographs or artwork, users can adjust the hue, saturation and brightness for six colours: RGBCMY (Red, Green, Blue, Cyan, Magenta, Yellow)
Edge Blending
Edge blending makes it easy to use multi-screen projection and achieves a seamless panoramic image, in which colour and brightness match.

Split Screen
Split Screen allows users to display content from two inputs simultaneously, side by side, on a single screen with the option of three different layouts. This makes it possible to display video and presentation materials simultaneously, or run video on both screens.
Multi-PC Projection
Epson Multi-PC Projection allows you to display four individual PC screens simultaneously over the network (wired or wireless), with another 12 users connected to the same projector on Standby mode. You can drag and drop participants into or out of one of the four quadrants. This feature is a great tool for meetings or classroom projects where multiple users want to present and compare their screens. You can also connect up to four remote projectors at the same time and show the same multi-screen image; another great tool for remote meeting setups.
360° Projection
The EB-Z10000 can be rotated 360° in any direction for off-axis positioning flexibility. As a result, they can be used for a wide range of applications, such as projecting on the ceiling or floor, or as part of a rear-projection system. Epson technology keeps the projector running without compromising performance or causing overheating.
DICOM Simulation Mode
DICOM (Digital Imaging and Communication in Medicine) is a standard for handling, storing, printing and transmitting medical imaging information. The projector's DICOM Simulation Mode enables users to reproduce images with an advanced grayscale level that simulates DICOM Part 14. This mode is ideal for viewing grayscale medical images, such as X-rays, for training and educational purposes.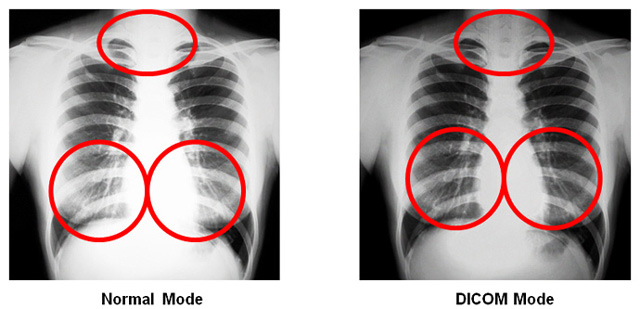 Epson EasyMP
EasyMP technology makes it easy to monitor and control all networked Epson projectors. You can use the utility while performing help desk services and proactively manage your projector assets. Remotely power down your projector(s) to extend the lamp life and produce energy savings. The utility also allows you to set up email notification, verify and change internal settings, and more. The utility is packaged on a CD with the projector and can be used with a PC to check the status of a projector. It is also available online at www.epson.com.au .
Uninterrupted Operation
The EB-Z10000 boasts a dual lamp system that eliminates the risk of interruption. If one lamp were to fail, operation would continue, using the other lamp. And replacements are made easy with tool-free and unobstructed access to the rear control panel.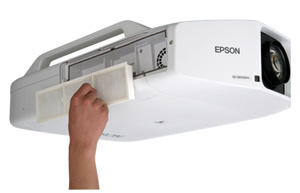 Protect your investment – long-life electrostatic air filter
The EB-Z10000 filter is designed to protect the optical engine, lamp and electronics from small dust particles that can enter any projector. It has a recommended 10,000-hour filter cleaning schedule. The Epson electrostatic filter captures particles as small as three microns, due in part to its pleated, expanded design. With one air intake and one exhaust path, the new Z-Series offer an efficient airflow system for optimum cooling of key components and a reduction in dust-related problems. Additionally, they have the capability to send an email notification out through the Epson monitor utility when an increase in temperature is detected, due to clogging.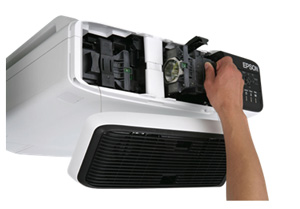 Easy Maintenance
Offering convenient access to the lamps and filter, the EB-Z10000 makes maintenance easier than ever, even if the projector is ceiling mounted. The lamp cover is located on the rear side panel and there are no screws, so the lid can be removed without any special tools. In addition to easy lamp and filter replacements, the EB-Z10000 includes features that make it easy to monitor and control. With EasyMP Monitor, users can access advanced status functions over the LAN.
Quiet, reliable liquid cooling system
Epson's innovative system uses liquid to cool the LCD chips directly. The liquid absorbs the heat and is then cooled by a peltier device, which is then cooled by a fan, thereby keeping the overall optical engine cool. This system design promotes greater reliability and enables stable operation in temperatures up to 50°C. In addition, it offers quiet, unobtrusive operation and allows for off-axis installation orientations.
Lens Shift
Epson lens shift technology enables outstanding installation flexibility with an incredible range of up to + or – 56% on the vertical axis and up to + or – 6% on the horizontal axis. Users can operate the lens shift functions using the remote control, the projector control panel, or control commands.
Arc Correction
Using arc correction, you can adjust each side of a projected image in an arch or barrel-shaped way, making it easier than ever to get a perfectly rectangular image.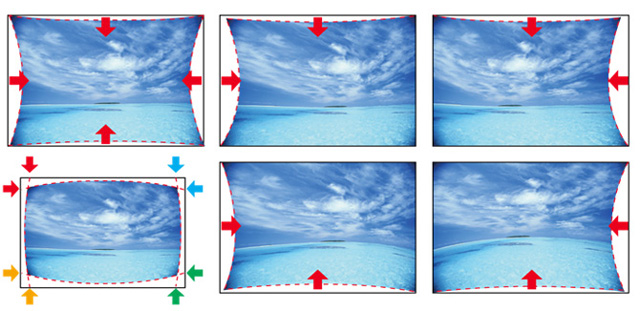 Test Patterns
The EB-Z10000 also includes six test patterns with precise setup features, including detecting distortion, checking linearity, colour reproduction and bleeding, and tone production check.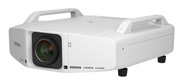 Centered Lens Design
Featuring a centered lens design, the EB-Z10000 makes installation easy to plan. Positioning the ceiling mount, screen and projector can be performed individually and independent of one another.
Six Powered Lens Options
For great flexibility, the EB-Z10000 offers a total of six lenses including short, wide, and rear, along with mid to long throw lenses that allow users to choose the motorized lens most suited for their environment. A quick release lever allows for a fast, easy lens exchange. (Lens not included with 'NL' models)
Connectivity Panel