Epson EMP-720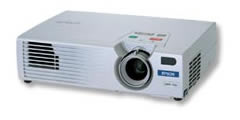 Corporate Portable Multimedia Projectors
1500 Lumens never felt so light
1500 Lumens never felt so light
The world's first micro portable projector to give you an amazing 1500 lumens in only 1.9kg, the Epson EMP-720 packs more brightness into a smaller package than any competitive model. Ordinarily, you would have to sacrifice critical features to get that kind of brightness in this weight class. With the EMP-720, you can have it all - features that facilitate convenient setup and operation, and flexible placement in any room, plus the brightness to shine in any presentation.
Some of the features to check out include auto keystone correction, which makes it perfect for presenters on the go. In addition, the EMP-720 includes Epson 3-LCD technology, for the greatest color and detail, as well as XGA resolution for sharp, vivid images every time. And, it's backed by legendary Epson reliability.
The Epson EMP-720 offers the ideal solution for mobile professionals, with extraordinary brightness and a robust feature set, all packed into one 1.9kg projector.
Incredible brightness-to-weight ratio!
1500 brilliant lumens
Weighs just 1.9kg
Superior image quality
Three 0.9" high aperture Epson LCDs for rich color saturation across the screen
400:1 contrast ratio for blacker blacks and whiter whites
XGA (1024 x 768) resolution for sharp, vivid detail
Easy setup and operation
Easy to use remote control that is the size of a credit card and is stored within the projector
Advanced fully automotive keystone correction
15° digital keystone correction that automatically engages without manual adjustments
Color-coded VGA cables and connectors
HDTV-ready, supports 480i, 480p, 720p and 1080i formats (optional cable required)
EPSON SizeWiseTM resizing technology supports virtually any computer (Mac or PC) up to UXGA (1600 x 1200)
Optical zoom lens
Cable lock feature for security conscious environments
Start Here Kit gets first time users projecting in just minutes