Epson EMP-820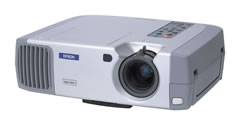 Corporate Desktop Multimedia Projectors
XGA High-Bright Projector for desktop presentations or installations
The Epson EMP-820 projector is the latest addition to Epson's general office range, providing the perfect combination of brightness, portability, universal flexibility and value.
Featuring the latest developments in Epson's highly acclaimed projector technologies, this is the ideal solution for mobile or office-based users who need outstanding performance in their projector package.
Offering brighter, sharper, lighter presenting at 4.2Kg, the Epson EMP-820 is a true XGA (1024 x 768) projector with full support for resolutions from VGA to UXGA. Combined with a maximum brightness of 2000 ANSI lumens, this ensures data and video images of extraordinary clarity can be viewed easily in full daylight conditions.
Horizontal and Vertical Keystone Correction
New Horizontal, as well as Vertical Keystone Correction, enables off-centre projection, creating a perfect 4:3 image (up to 10°).
Supporting WinColor quality specifications, Epson's new colour management technology, provides sRGB mode to bring a new era of colour business solutions. Epson's projectors, printers, scanners and digital cameras uniformly work in sRGB mode, ensuring that the colour input by a digital camera or scanner is transformed naturally into output by a projector or printer.
Performance with control
The new projection lens enables clear, lifelike images up to 60" to be projected just 1.8m from the screen, while the high zoom ratio allows the user to switch from 16:9 to 4:3 aspect ratio without changing the distance. The new remote control also features an Up & Down key for scrolling through Word, Excel and Powerpoint applications.
Flexible connectivity
The Epson EMP-820 includes 2 PC inputs (1 x DVI-I + 1 x HD 15 pin) plus monitor redrive and 1 Video input (Component, Composite or S-Video) as standard. Worldwide video compatibility and RS232 input is also included, while USB support enables full use of a remote mouse and USB audio.
2000 ANSI lumens brightness, highly portable 4.2Kg
NEW horizontal keystone correction
sRGB mode
6 projection modes to suit a wide range of applications
DVI-I compatibility, full USB support
Key Features