Epson Expression 10000XL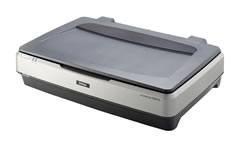 Photo Scanners
The A3 scanner for Professional graphic artists, designers and business users
The A3 scanner for demanding graphic art and business users with 2400 dpi resolution, 3.8 optical density and network capability. Unlike many competitors in its class, an image scanned by the Expression 10000XL is processed by the onboard ASIC chip, ensuring high speed scanning by reducing the scanner's dependence on the PC's processor.
Key Features
High Resolution
High Resolution for graphics professionals and photograph enthusiasts.
Crisp Definition
The EXPRESSION 10000XL scanner produces sharp, high-quality scans with accurate colour reproduction.
A3 Scanning
Documents such as brochures, magazines spreads and CAD/GIS drawings up to A3 can be scanned in a single pass
Film Scanning
The Epson EXPRESSION 10000XL may be used in conjunction an optional high speed, all-in-one moving carriage-type Transparency Unit (TPU).
High Speed
One speed enhancing characteristic of the EXPRESSION 10000XL is its new bluish lamp.
Networkability
The EXPRESSION 10000XL can be connected directly to a local area network (LAN) using the optional Network Image Express Card.
Bundled Software
Bundled with the EXPRESSION 10000XL is a full range of scanning software tools.