Epson Stylus Photo R3000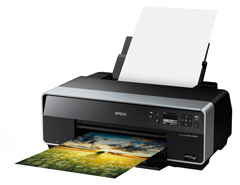 9 Cartridge Ink System Printers
The new benchmark in A3+ professional photographic printing, featuring Epson UltraChrome K3 Ink with Vivid Magenta
Epson is proud to introduce its new high quality A3+ printer, the Epson Stylus™ Photo R3000, which delivers professional features including high-capacity cartridges, networking and wireless connectivity, plus advanced media handling. Epson UltraChrome K3® with Vivid Magenta pigment ink, combined with Epson's innovative MicroPiezo® print, enables the R3000 to produce gallery-quality black-and-white output, plus vivid colour prints with breathtaking blues and violets. The Epson Stylus™ Photo R3000 is setting new benchmarks in A3+ professional photographic printing, delivering unsurpassed exhibition quality prints.
KEY FEATURES
A3+ size printing — Exhibition Quality prints up to A3+ size.
Superb colour photographic prints — Epson UltraChrome K3® Ink with Vivid Magenta expands the colour gamut in blues and purples, making it easier to reproduce the more difficult colours.
Outstanding black & white photographic prints — The Epson Stylus™ Photo R3000 includes three black cartridges, creating smooth tonal graduation, superior neutral grey tones and a high D-max for blacker blacks.
Auto-switching black inks — A new Intelligent linking technology enables the printer to automatically switch between Photo and Matte Black inks to optimize your output, based on the media type you choose. Photo Black Ink produces rich, deep blacks on traditional photographic papers; while Matte Black Ink produces exceptional results on matte surface media.
Individual High Capacity Ink Cartridges — The Epson Stylus™ Photo R3000 includes new high capacity ink cartridges which provide 2.3 times more ink than previous Epson models.
Advanced, simple media handling — An Improved design allows precise front feeding of the fine art paper - a definite advantage that not only simplifies a delicate task, but reduces installation space.
Roll paper Support — The Epson Stylus™ Photo R3000 has the ability to support roll paper handling as a standard feature, making continuous, high quality photograph printing absolutely straightforward. This feature makes the printer ideal for photographers looking for simple yet high quality panorama with edge-to-edge BorderFree photo printing on sizes up to A3+.
CD/ DVD Printing — In keeping with Epson's precision CD/DVD surface printing tradition, the Epson Stylus Photo™ R3000 supports high quality printing directly on to the surface of compatible inkjet printable 8cm and 12cm CD-Rs and DVDs.
Wired and wireless connectivity — Out of the box compatibility with Ethernet and WiFi networks make the Epson Stylus™ Photo R3000 ideal for any photo studio, graphics house or SOHO environment, while support for USB further expands connectivity options. The Epson Stylus™ Photo R3000 also features USB connection and Pictbridge, meaning PictBridge-enabled cameras can be easily connected to the printer for direct-from-camera printing.
2.5 inch Colour LCD Display – The Epson Stylus™ Photo R3000 features an impressive LCD display panel which allows you to check the printer status, ink levels and perform routine maintenance tasks.