Epson LQ-300+II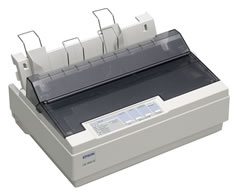 24-Pin Dot Matrix Printers
Latest High Speed, High Quality Dot Matrix Printer of Choice for the Business Environment
The LQ–300+II is the latest high speed, high quality dot matrix printer of choice for the business environment. Featuring extraordinary speed, output quality and dependability — as well as optional colour capability — the Epson LQ–300+II 24–pin dot matrix printer offers exceptionally high performance in a compact and lightweight package.
The LQ–300+II offers fast draft and letter quality printing, a convertible push/pull tractor, the ability to upgrade to colour, and flexible connectivity with standard USB, serial and parallel interfaces with built–in auto switching.
A versatile printer, the LQ–300+II is easy to use and has excellent paper handling capabilities, including the ability to load single A4 cut sheets, continuous stationery, envelopes, and multi–part stationery with no wastage of the first sheet. Standard paper handling can be enhanced with the addition of the optional second tractor or the single bin cut sheet feeder.
Impact Dot Matrix printers are the ever reliable and valuable business tool, with particular applications in difficult environments, such as retail, government, warehousing, office and data processing applications. The unique features of SIDM printers make them the only viable printing alternative in many circumstances.