Epson 24" SpectroProofer 30 Upgrade Kit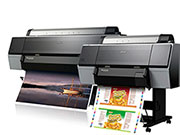 Large Format Printer Options
Optional SpectroProofer
This device is designed to help operators achieve a high degree of colour accuracy when transitioning from design to print. It also helps ensure colour consistency is maintained from one print to the next. It mounts to the front of an Epson printer and when used with appropriate RIP software helps automate calibration and verification.
This product is designed to integrate with existing print workflows. It is particularly useful for contract proofing and the generation of colour certification labels. It operates with either a black or white backing on the measurement patch and conforms to the ISO-12647-7 standard
There are two versions of this product, each designed for different media types. The model with a UV cut filter suits media with optical brighteners.