Photography & Fine Art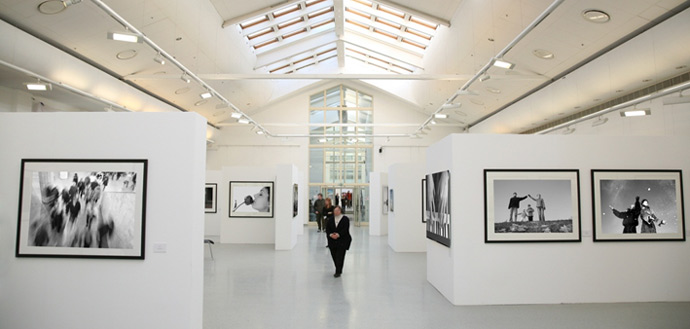 Epson's photo and fine art printers have long set the standard for colour and B&W image reproduction. Whether you are producing commercial photo prints, wedding albums, school photos or gallery-ready artwork, Epson has the solution.

The SureColor ProGraphic series has been designed for people who need to produce premium quality photo and fine art prints on paper, board, canvas and/or film. They combine maximum print precision with high image stability, a high dMax, outstanding colour precision, and an unparalleled gamut range.

The SureColor Production series has been designed for companies involved with large format imaging on a high-volume commercial basis. Whether you are producing photo prints, posters, POS or wall art, these machines offer the perfect solution. They combine a high print speed with low running costs and flexible media handling. Optional Postscript support enables accurate reproduction with a simple and efficient drag-n-drop interface while an optional Auto Take-Up System enables roll-to-roll production.

The SureLab range has been designed for photo labs, retailers and specialist photographers who need to produce commercial quality photo prints. Available in a choice of high-volume floor-standing and compact low-cost desktop models, all offer fast and flexible production on a choice of gloss, lustre and matte media.
Versatile media support
Outstanding image quality
Consistent & predictable output
Large & cost effective ink cartridges

Easy to operate
High speed interfacing
Configurable on-site service
Optional colour management
Photography & Fine Art
A2+ Prints with Optional Roll Support
Professional Photo & Fine Art imaging with Precision Control
5760 x 1440 optimised DPI
10 Individual 50ml Ink Cartridges
Print with 9 Colours including Violet
Dedicated Matte / Photo Black ink lines, no switching!
Epson UltraChromeŽ Pro10 Pigment Ink
Fine Art and Board media Support
4.3 inch Colour LCD Touchscreen
Hi-Speed USB 3.0, Ethernet & Wi-Fi 5
Up to 5 YEARS CoverPlus Service Cover

$1996 RRP inc GST

Professional Photo & Fine Art imaging with Precision Control
Roll & Sheet Media handling
0.08-1.5 mm Thick Media Support
5760 x 1440 optimised dpi
Cutting-edge UltraChrome Pro10 All-Pigment Ink
Low running costs with 10 Colour 200 ml cartridges
Dedicated Matte / Photo Black ink lines, no switching
4.3 inch Colour LCD Touchscreen
Black Enhance Overcoat for richer blacks
Desktop design
Hi-Speed USB 3.0, Ethernet and WiFi
Up to 5 years CoverPlus Service Cover

Max 432mm Wide Roll & Sheet Media
0.08-1.5mm Thick Media Support
New UltraChrome HDX All-Pigment Ink
Lower running costs with 11 Colour 200ml Cartridges
2880x1440dpi PrecisionCore VSDT TFP
Up to 99% PANTONE Coverage
Prints an A2 Sheet in 0.5min
Desktop Design
Up to 5 YEARS CoverPlus Service Cover
Optional SpectroProofer

Max 610mm Wide Roll & Sheet Media
0.08-1.5mm Thick Media Support
UltraChrome HD All-Pigment Ink
9 Colour 700ml Max Cartridges
2880x1440dpi PrecisionCore VSDT TFP
93% PANTONE Coverage
Prints an A1 Sheet in 50s
Supplied with Stand & Media Basket
Up to 5 YEARS Service Cover
Optional SpectroProofer

Max 610mm Wide Roll & Sheet Media
0.08-1.5mm Thick Media Support
UltraChrome HDX All-Pigment Ink
11 Colour 700ml Max Cartridges
2880x1440dpi PrecisionCore VSDT TFP
Up to 99% PANTONE Coverage
Prints an A1 Sheet in 0.8min
Supplied with Stand & Media Basket
Up to 5 YEARS Service Cover
Optional SpectroProofer

Max 610mm Wide Roll & Sheet Media
0.08-1.5mm Thick Media Support
UltraChrome Pro12 All-Pigment Ink
12 Colour 700ml Max Cartridges
2400x1200dpi PrecisionCore VSDT ěTFP
99% PANTONE Coverage
Prints an A1 Sheet in 94 seconds
Supplied with Stand & Retractable Media Basket
Up to 5 YEARS Service Cover
Optional SpectroProofer, HDD, Postscript

Max 640mm Wide Roll & Sheet Media
0.07-1.5mm Thick Media Support
UltraChrome Pro6 All-Pigment Ink
6 Colour 700ml Max Carts with Gray
2400x1200dpi PrecisionCore VSDT TFP
Prints an A1 Sheet in as little as 16s
Dual Roll with Auto Loading & Exchange
Integrated PostScript & Media Basket
Compact Body with Small Footprint
Up to 5 YEARS Service Cover

Max 1118mm Wide Roll & Sheet Media
0.08-1.5mm Thick Media Support
UltraChrome HD All-Pigment Ink
9 Colour 700ml Max Cartridges
2880x1440dpi PrecisionCore VSDT TFP
93% PANTONE Coverage
Prints a B0 Sheet in 110s
Supplied with Stand & Media Basket
Up to 5 YEARS Service Cover
Optional SpectroProofer
Optional Auto-Take-Up

Max 1118mm Wide Roll & Sheet Media
0.07-1.5mm Thick Media Support
UltraChrome Pro6 All-Pigment Ink
6 Colour 700ml Max Carts with Gray
2400x1200dpi PrecisionCore VSDT TFP
Prints a B0 Sheet in as little as 35s
Dual Roll with Auto Loading & Exchange
Integrated PostScript & Media Basket
Compact Body with Small Footprint
Up to 5 YEARS Service Cover

Max 1118mm Wide Roll & Sheet Media
0.07-1.5mm Thick Media Support
UltraChrome Pro6 All-Pigment Ink
6 Colour 1.6L pouches with Gray
2400x1200dpi PrecisionCore VSDT TFP
Prints a B0 Sheet in as little as 35s
Dual Roll with Auto Loading & Exchange
Integrated PostScript & Media Basket
Compact Body with Small Footprint
Up to 5 YEARS Service Cover

Max 1118mm Wide Roll & Sheet Media
0.08-1.5mm Thick Media Support
UltraChrome HDX All-Pigment Ink
11 Colour 700ml Max Cartridges
2880x1440dpi PrecisionCore VSDT TFP
Up to 99% PANTONE Coverage
Prints a B0 Sheet in 1.8min
Supplied with Stand & Media Basket
Up to 5 YEARS Service Cover
Optional SpectroProofer
Optional Auto-Take-Up

Max 1118mm Wide Roll & Sheet Media
0.08-1.5mm Thick Media Support
UltraChrome Pro12 All-Pigment Ink
12 Colour 700ml Max Cartridges
2400x1200dpi PrecisionCore VSDT ěTFP
99% PANTONE Coverage
Prints an A1 Sheet in 94 seconds
Supplied with Stand & Retractable Media Basket
Up to 5 YEARS Service Cover
Optional SpectroProofer, HDD, Postscript
Optional Auto-Take-Up

SureLab D560 - Dry-film Minilab

Single-sided & double-sided prints
Outputs print in 3.5x5" & 4x6"
Cost-effective sheet media
Gloss & Lustre media support
Produces bright high-gloss prints
6 colour 70ml ink bottles
1440x720dpi MicroPiezo VSDT
Up to 250 prints per hour (4x6")
Ultra-compact desktop design
Very low power consumption
Windows & Macintosh compatible
Up to 5 YEARS Service Cover

SureLab D1060 - Dry-film Minilab

Single-sided plus optional Duplex
Outputs prints up to 8" x 39"
Cost-effective roll & sheet support
Gloss & Lustre media support
Produces bright high-gloss prints
6 Colour 250ml ink bags
1440x720dpi MicroPiezo VSDT
Up to 460 prints per hour (4x6")
Ultra-compact desktop design
Very low power consumption
Integrated A4 print support
Windows & Macintosh compatible
Up to 5 YEARS Service Cover